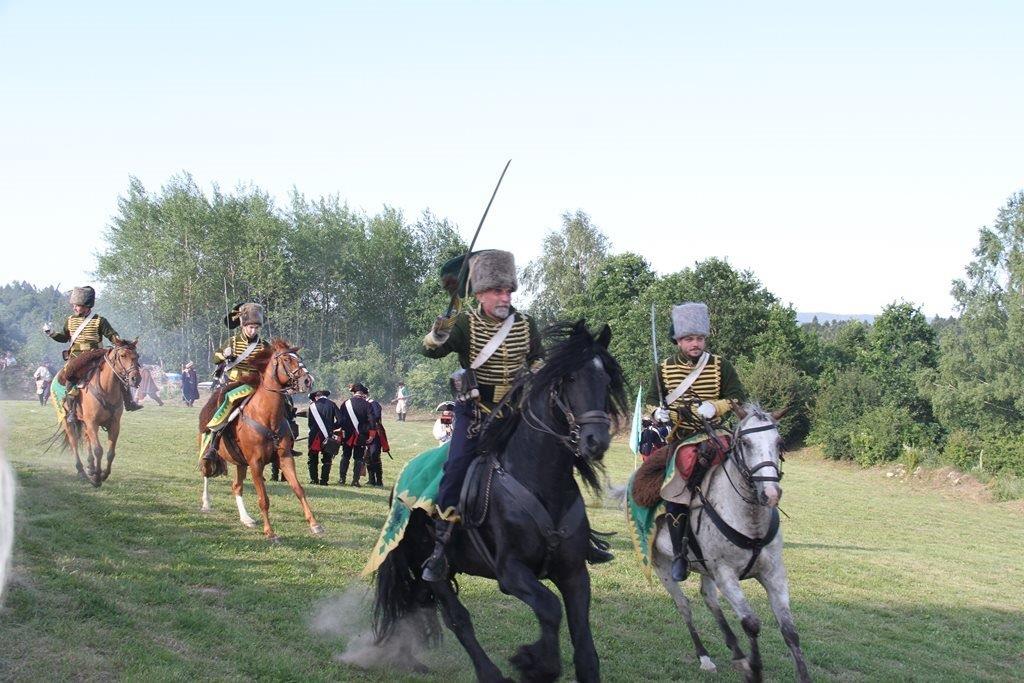 The projects implemented under the Cross-border Cooperation Programme Poland-Belarus-Ukraine 2014-2020 are not just indicators, budgets, reports and payments. Although these are inseparable elements, above all each project hides the specific ideas, values and dreams of people implementing it, as well as the stories of those who benefited from their implementation.
We want to bring some of them closer to you by the "Project stories" – the cycle which presents their more human (but also animal – as in the 1st, 13th and 14th episodes) dimension of our selected projects. We invite you to read!

By day, Piotr is a clerk-turned-city gardener and Artur is a computer games developer. From time to time, they quit their professional occupations, put on 18th-century military uniforms, load up their black-powder weapons, curl their sumptuous moustaches (whoever has one) in order to... immerse themselves in history, which is their life's passion.
I am from the von Lattorff Garrison Regiment from Koźle. I have been interested in history since I was a child, and the period of the 18th-century was the most interesting for me, I started digging into the history of the town, its fortress, and that is where we started our activity, recalls Piotr Paisdzior, President of the Koźle Historical Reconstruction Association since 2010.
To begin with it was the 13th-century, I liked the chainmail and started looking for information about the knightly culture. Then I wanted to do something related to Częstochowa and at some point I found a description of a soldier who was stationed at Jasna Góra. It turned out that they had very interesting uniforms, and the era was also interesting, but forgotten, not known by everyone, treated in Poland "with neglect". And this is how the stage of interest in the 18th century began for me, comments Artur Kramer, President of the Częstochowa Fortress Garrison Association since 2013.
The two enthusiasts travelled several hundred kilometres from the centre of Poland to Zagórz, located on the Polish-Ukrainian border, to take part in a historical reconstruction as part of the project "To touch history and culture – a historical-cultural mosaic of the Polish-Ukrainian borderland" (acronym Touch_History). In the scenery of the ruins of the Carmelite monastery, project partners together with re-enactors recreated an event from 250 years ago – the last battle of the Bar Confederation. Reconstruction groups from Poland and abroad presented themselves, and tourists and residents could observe camp life, genre scenes, demonstrations of weapon wielding, infantry and cavalry skirmishes, participate in thematic workshops, costume and equipment presentations. There was also a concert of music referring to Sarmatism and the times of the Bar Confederation, as well as a tasting of regional dishes.
According to the re-enactors, such a journey in time can attract hundreds or even thousands of history enthusiasts:
Such events are hugely successful everywhere. Lots of people come to watch them. Especially when there is a lot of banging, a lot of smoke, colourful uniforms and costumes for example for ladies, because the 18th-century was an interesting era for ladies' costumes, stresses Artur. Historical re-enactments are powerful undertakings. They bring together various formal and informal groups, non-associated people. They are often attended by up to thousands of the re-enactors themselves and, finally, the public.
Such a great interest in history and its recreation through reconstructions pleases the mayor of Zagórz – the project leader. The main objective of this undertaking was not only to promote the historical and cultural heritage of the borderland, but also to attract tourists.
The unconventional way of presenting historical and cultural heritage encourages residents and visitors to learn about the history and traditions of our region. With this in mind, the Zagórz Commune is planning to organise further performances touching on various eras and historical events connected to the region. In addition to these activities, next year in the area of the ruins of the 18th-century Zagórz monastery we are planning to organise a historical and cultural festival based on the theme of fire. The task, like this year's staging, has received funding under the Cross-border Cooperation Programme Poland-Belarus-Ukraine 2014-2020", emphasises Mayor Ernest Nowak.
We invite you to Zagórz for next year's historical and cultural festival.
You can read more about the project here.