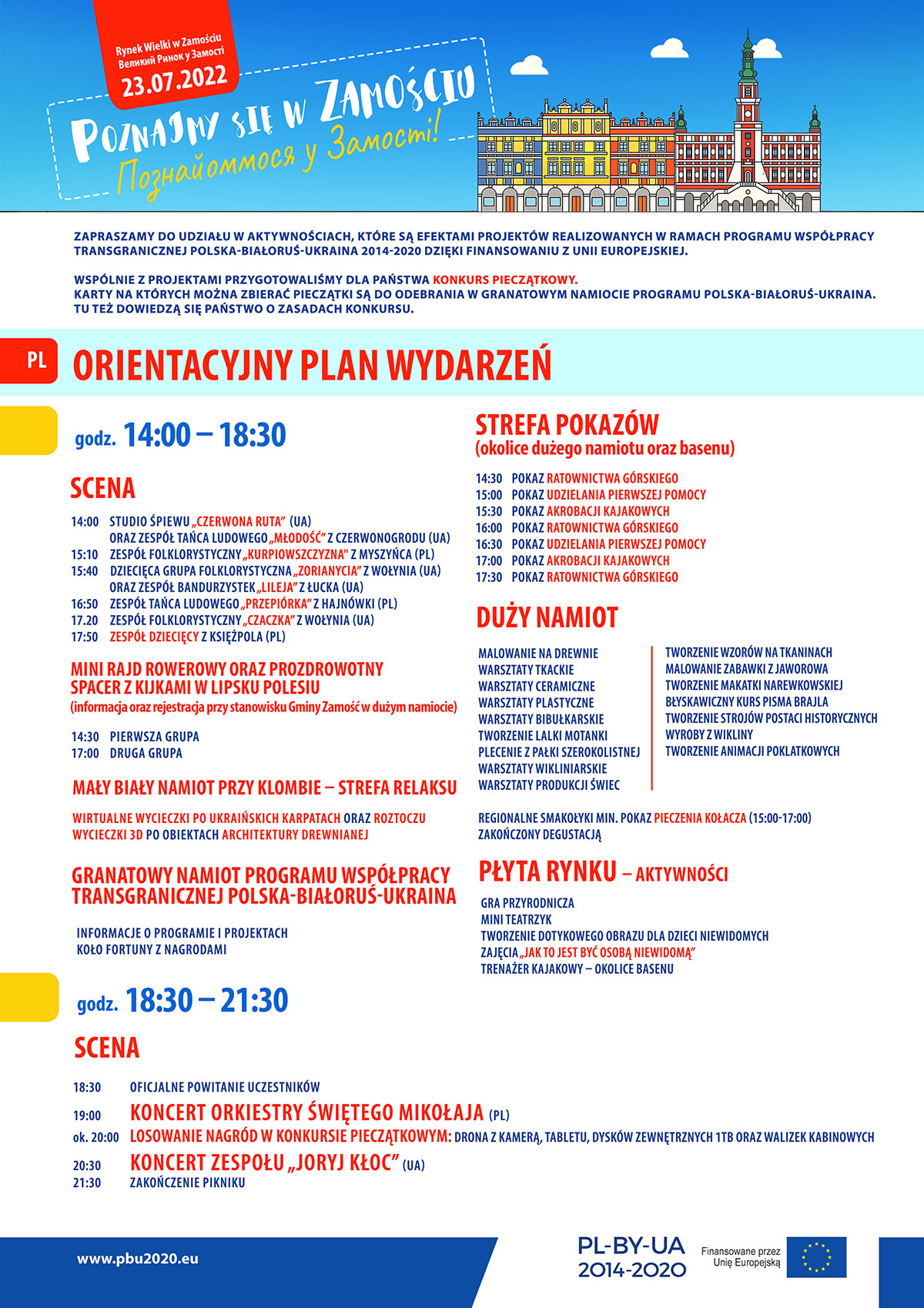 We would like to invite you to the Great Market Square (Rynek Wielki) in Zamość for the PBU Programme's annual event on 23rd July from 2:00 pm to 9:00 pm. This time we will present projects at a family picnic under the slogan:
"Let's meet in Zamość!"
Together with the beneficiaries of PBU projects, our partners in this event, we have prepared many attractions for all age groups. Everyone will find something interesting for themselves. Everyone will also be able to get to know the Programme itself, the beneficiaries from Poland and Ukraine, the results of the financed projects and finally the plans for the future of Polish-Ukrainian cross-border cooperation.

From 2:00 pm till 6:30 pm.
The market will be divided into several zones, and surprises will be waiting in each of them. You will be able to take part in workshops - make your own wax candle, learn first aid or take part in a mini bike rally. In the relaxation zone you will be able to take a virtual journey through the Ukrainian Carpathians, visit wooden architecture sites in Poland and Ukraine.
For those who like adrenaline, we will turn the tower of the Zamość Town Hall into the top of a mountain, and a water-filled 11x7 m pool will replace a river. A mountain and a river in the Zamość town square sounds surprising. You will be even more surprised when you see what they will be used for.
We haven't forgotten about the gourmets either! Regional delicacies prepared during the event will be waiting for you, as well as ice cream, cotton candy and popcorn.

From 6.30 pm till 9.00 pm
Concert by the stars of the evening: "The Saint Nicholas Orchestra" from Poland and the "Yoryi Kloc" band from Ukraine. Both bands refer to folk traditions in their work. Both were also actively involved in one of the PBU projects.

We will have attractive prizes for some of the most persistent seekers of PBU project results, including a drone, tablet, external drive and suitcase, ideal for summer expeditions in search of PBU projects.
Admission to all activities at the event is completely free.
You are cordially invited. Let's get to know each other in Zamość!