Project of the week - TwinMonasteries
02 / 04 / 2020
TwinMonasteries is another project that we present in our cycle "Project of the week". This is a joint initiative of the Roman Catholic Parish Church of St. Peter of Alcantara and St. Anthony of Padua in Węgrów (PL) and Religious Organization "Curia of Lviv Archdiocese of the Roman Catholic Church" in Ukraine. The project "The twin monasteries: Węgrów and Rava Ruska - using the potential of the heritage of Reformati Order for development of tourism and socio-cultural life in Poland and Ukraine" is implemented within the thematic objective HERITAGE. Beneficiaries jointly undertake actions to increase the tourist attractiveness of the border areas (Poland-Ukraine), developing cultural dialogue, mutual exchanges of young people, organizing conferences and cultural events, and finally promoting the rule of the Franciscan Order - love for the people in need.
More information can be found in the pdf file below.
The implementation of the project was symbolically opened on beginning of August 2019 when a press conference with the participation of local, regional and national media was held in the former Reformati monastery in Węgrów. All the guests took part in a joint removal of decayed old planks from the ramp adjacent to the monastery walls. According to the project schedule, revitalization works of the monastery in Węgrów are being carried out. The construction company is working on changing the roof covering of the monastery, it is also carrying out works inside the cloister garth, where a ventilation facility for the whole complex will be created. The cloister garth is covered with a reinforced concrete and glass construction to create a multifunctional room for educational and cultural events. Recently, the underground entrance, which was previously inaccessible, has been unearthed. The favorable weather makes the works go forward. The Curia of Lviv Archdiocese also started its works and after completing all the necessary documents, now is awaiting permission to proceed with the revitalization of the former Reformati monastery in Rava Ruska. Both beneficiaries selected people to carry out archival and historical research, which will result in the creation of a new tourist product "Former Reformati Order's Monasteries Route".
According to the Grant Contract, the project should run until 31st July 2021.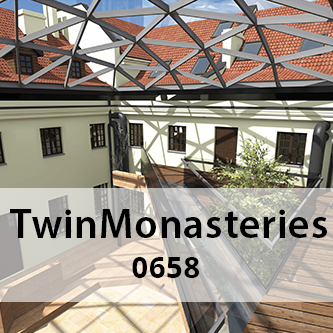 Gallery
Project TwinMonasteries

Very useful

Maybe useful

useless